Waterbeach Community Association
The Waterbeach Community Association is a friendly alliance of the community groups, organisations and interested individuals from the Cambridgeshire villages of Waterbeach, Landbeach and Chittering. The Association works to promote togetherness in these villages, to include all sections of the community.
We organise various social events throughout the year. These include the Waterbeach Feast, now a major village event for over 40 years, an annual party for local senior citizens, a Christmas Carol service on Waterbeach Green and charity fundraising, as well as the village magazine "Beach News". These are all part of the framework of community life that brings us all together.
*** Waterbeach Feast - Saturday 9th June ***
Just to keep you all updated about the Feast on Saturday 9th June and to ask for your help.
If you can spare sometime on the morning of the Feast to help set up from 8.30am it would really be appreciated. If you can't manage the morning HELP IS NEEDED after the Feast with the clearing up from 5pm. Thank You. The Parade will leave the school at 2pm. Please be aware that the roads will be very congested and we ask that you be very patient and try to avoid driving through the village between 2pm-3pm. Also please be aware that there will be LOTS OF CHILDREN AND ADULTS PARADING THROUGH THE VILLAGE. Thank you all for your continued support for Feast Day See you there!
What's On
Visit our What's On calendar for future events in the Community
Photos
</p>
News
Feast Day - 9th June 2018
Theme : Something beginning with L....
Beach News - Spring
The Spring edition is now available, click here to view it in colour.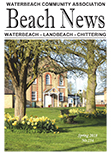 *** PLEASE NOTE CHANGE OF DATES ***
The next edition of Beach News will be published on 7th July 2018, editorial to be submitted by 15th June 2018
Beach News Adverts
Contact us by emailing: